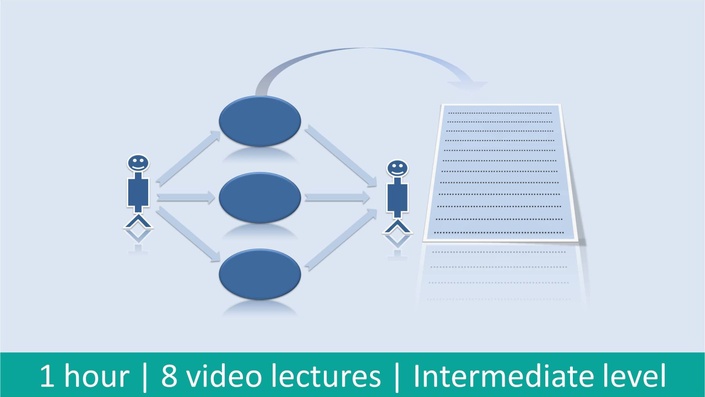 Fundamentals of Use Case Modelling Course
An intermediate level course to specify and model systems requirements using use cases for novice as well as experienced Business Analysts
Access for the lifetime of the course, or at least 3 years
30-Day Money-Back Guarantee
What you'll learn

Learn to create Use Case diagrams, write detailed Use Case descriptions and Scenarios
Learn to identify Actors and Use Cases
Understand steps involved in writing Use Cases
Understand benefits of Use Cases as compared to conventional ways to define Systems Requirements
Requirements
Prior experience or knowledge in requirements analysis would be useful
Description

Fundamentals of Use Case Modelling course is an intermediate level course and hence suitable for fresh as well as experienced Business Analysts.
This course uses an integrated case-study based approach.
Key Benefits

Acquire skills for Use Case Modelling
Talk confidently about Use Case Modelling in your business analyst interviews
Attempt quizzes to check your understanding and reinforce learning
Download a Use Case template and a sample Use Case for personal or commercial use
Course Content
Key concepts and terms of Requirements Analysis
Purpose of Use Cases, and components of Use Case Diagrams such as Actors, Use Cases and the associations between them
Write detailed Use Case Descriptions
Identify Actors and Use Cases
Steps involved in incrementally writing Use Cases
Write Scenarios to analyse various ways in which a Use Case can be performed
Course Duration

The whole course will take less than 2 hours to complete.
Show more/ Hide




The Fundamentals of Use Case Modelling course is prerequisite to Advanced Concepts in Use Case Modelling Course. Advanced concepts in Use Case Modelling course covers writing detailed Use Case Descriptions using the Include, Extend and Generalisation Relationships and to identify and mitigate security threats to the system by identifying Misuse Cases and Security Use Cases.

Both Fundamentals of Use Case Modelling as well as Advanced concepts in Use Case Modelling course use the original way of writing Use Case descriptions.

Who this course is for:


Novice to intermediate Business Analysts
Professionals from development, testing, quality, sales support, project management and end-users aspiring to play the role of Business Analyst
Professionals with business or domain experience who want to change career into business analysis
Course Curriculum
Writing Use Case Descriptions
Available in days
days after you enroll
Identifying Actors and Use Cases
Available in days
days after you enroll
Course Includes: 1+ hour on-demand video | 8 video lectures | 2 downloadable resources
Frequently Asked Questions
How long do I have access to the course?
After enrolling, you'll have guaranteed access for AT LEAST THREE YEARS after you enrol and further access on request basis, for as long as this self-paced online Fundamentals of Use Case Modelling Course is continued to be offered on the BA Central website.
What if I am unhappy with the course?
We would never want you to be unhappy! If you are unsatisfied with your purchase, contact us in the first 30 days and we will give you a full refund.
Your Instructor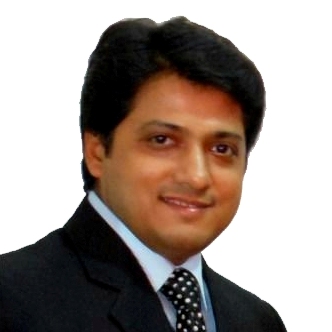 Trividh has about 20 years of experience in Business/ Process Analysis, Consulting, Pre-sales, and Project Management in Insurance (Life/ P&C / Healthcare / Social Security), Banking, Lending, Media and Sports domain.

In past, he has worked for leading IT Services companies such as Capgemini Consulting, Wipro Technologies, Syntel Inc. etc as Business Architect, Lead/ Sr. Business Analyst, and as IT Project Manager. He has executed several business analysis projects for reputed organisations from USA, UK, Europe, Middle East, Japan and India. He has good track record of leading team of Business Analysts to deliver business analysis projects.

Trividh Patel has done Master of Management Studies (MMS) in Systems from JBIMS and Bachelor of Engineering (Electronics) from VJTI, University of Mumbai (India). He has also done PG Diploma in Software Technology (PGDST) from CDAC (erstwhile NCST) and is a Certified Six Sigma Black Belt (CSSBB) by MSME, Government of India.
Trividh is a Certified Business Analysis Professional (CBAP) by International Institute of Business Analysis (IIBA, certificate# 13430221), Canada since March 2012.
For guidance or queries, connect >

Trividh Patel, CBAP | LinkedIn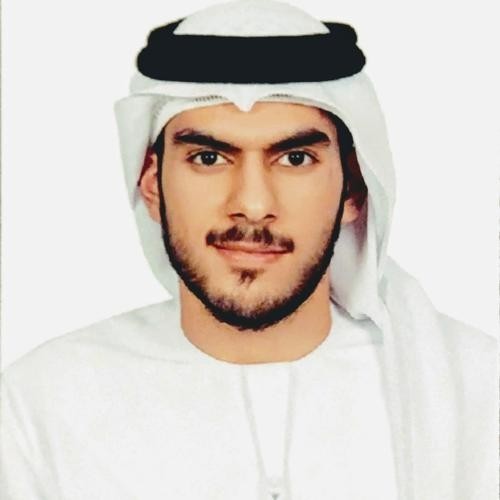 Ahmed Aref AlKooheji
★★★★★
Attended Fundamentals of Use Case Modelling course by Trividh Patel, CBAP. Concepts taught were made simple. He effortlessly manages to break down a complex idea into something that is very clear and easy to understand. Easy examples given during the course helped me gain a more solid comprehension of the topic. In short, a great teacher.

Thapelo Muswede
★★★★✰
I am enjoying working on Use Cases than writing paragraphs. Less documentation.

Wendy Lien
★★★★✰
Yes. It solved my curiosity.

Rashed Al Naamani
★★★★✰
Thanks a lot...Nicely described
Trividh Patel, CBAP
Instructor response
Thank you for attending both "Fundamentals" as well as "Advanced Concepts in Use Case Modelling" course.

Devarajan Korambatta Illam
★★★★✰
Good

Akshay Sisodia
★★★★★
The basics of use case writing were clearly explained.

JD Davis
★★✰✰✰
Good content however I have difficulty understanding the instructor and this unfortunately detracts from otherwise relevant content.
Trividh Patel, CBAP
Instructor response
I would advise you to re-attend whole course. With more exposure to different accent I am sure you would find this course immensely useful.

Ghada Wadi
★★★✭✰
This is an introductory and essential class for anyone who would like to start a career as a BA.
Trividh Patel, CBAP
Instructor response
Thank you for attending both "Fundamentals" as well as "Advanced Concepts in Use Case Modelling" course.

Dean L Bateman
★★★★★
Great guidance. Highly recommend.

Amy Schellenberg
★★★★★
Very good so far.

Jonathan Rabideau
★★★★✰
I didn't realize exactly what went into a Use case and this laid it out well.
He was thorough but provided a good amount of information at a time. I liked that he was constantly, after each session, referring back and building upon the Use Case outline. The repetition help my recall.
His accent is a bit tough to get through. This forced me to have to listen at 1.0 speed. Since the course length wasn't super long, it wasn't a big issue. This was only a half-star deduction. What I wanted and never got was the visual representation of the use case in diagram form. <- second half-star deduction. I did purchase the second, advanced use case course... maybe diagrams are in there. I will let you know.
I would purchase this again. Worth the investment.

Steven Alexander
★★★✰✰
Please edit to remove the misuse of some words that do not fit. For instance "knows". That would be a personification which is not appropriate in a factual lesson. Also "shape" I think you meant boundaries and application.

Andrea Uhl
★★★✭✰
I sometimes have trouble understanding the accent of the presenter.

Mark Odumu
★★★★★
I am having one of the best new experiences in studying this course. I had a craving for it and its just simply what I anticipated. Instructors explanations are on point. Good work. Will encourage more friends to look this way.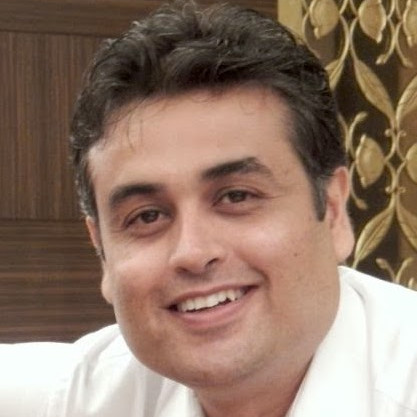 Sushil Jhamnani
★★★★★
Excellent!
The presentation and delivery of content made the course very easy to understand.

I always wanted to understand how to write Use Cases, and your course made it seem simple.
I am glad that I attended the course. Will look forward for more topics.
Access for the lifetime of the course, or at least 3 years
30-Day Money-Back Guarantee